BREAKING: Biden Nominates Senator Manchin's Wife For Cushy Government Job
West Virginia Senator Joe Manchin has been hurdle #1 for Senate Democrats trying to build solidarity for their efforts to kill the filibuster.
The self-professed "conservative Democrat" has avoided taking a stance on the issue, choosing to focus instead on election reform and COVID relief matters.
That's been a huge problem for President Biden.
The narrow margin Democrats have in the Senate gives Senator Manchin major authority over whether or not the filibuster will be taken off the table.
It seems, though, that Biden may have found a compromise.
On Friday, the White House announced that they would be nominating Joe Manchin's wife to a cushy federal position that pays upwards of $160,000 annually.
If confirmed, Gayle Connelly Manchin, the former president of the West Virginia state board of education, will serve as federal co-chair of the Appalachian Regional Commission — an organization directly responsible for funneling money into Manchin's homes state of West Virginia.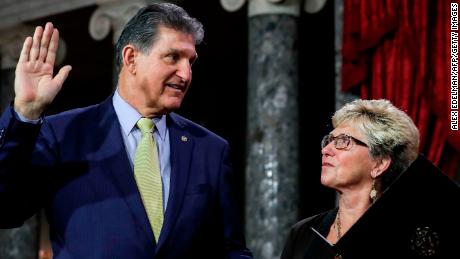 There are too many conflicts of interest here to possibly name them all!
The timing of the announcement with Manchin's rise as a vital political player is more than a little bit suspicious.
Biden has continued to put pressure on the Senate to "reform" the fillibuster process as soon as humanely possible. If Manchin jumps on board, that could be any day now.